Action Strikes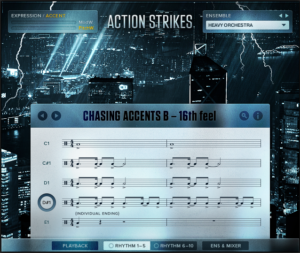 "CINEMATIC ORCHESTRAL PERCUSSION
Add huge cinematic percussion to your tracks
Direct the drama with real-time control
Create full arrangements from time-tested rhythms
EDGE-OF-YOUR-SEAT IMPACT
A radically innovative instrument for huge cinematic percussion. Its state-of-the-art workflow delivers maximum impact with unmatched versatility.
STRIKE UP THE DRUMS
Building on the success of ACTION STRINGS, ACTION STRIKES delivers high-impact, cinematic percussion with ultimate playability. 12 full ensembles plus 65 single instruments and 12 carefully-compiled Hit Sets exclusively recorded in uncompromising quality.
Hundreds of timeless rhythms, adaptable for any project. And a one-of-a-kind interface that makes creating blockbuster orchestral percussion faster than ever. Become the conductor – this is ACTION STRIKES.
THEME AND VARIATION
ACTION STRIKES gives you 12 carefully-assembled and meticulously recorded ensembles. Each features its own unique sound, accurately capturing the thrill of a live orchestra.
Go in deep – mix and match the high, middle or low sections of any ensemble with any other with total freedom. Together, you get over 1,700 unique sonic combinations for years of inspiration.
GOOD CONDUCT
ACTION STRIKES puts a live percussion ensemble under your leadership. Change rhythms on the fly with intuitive key switches – your left hand controls accents while your right hand chooses variations.
Bring the sound from a light rumble to a thundering crescendo and back with a quick turn of the mod wheel. Adjust accent strength with the pitch wheel. Even play fills, rolls, and flams on top of your arrangements – all in real-time with ultra-refined control.
CUSTOM PERCUSSION ORCHESTRA
Never rely on a generic loop library again. Freely combine 105 time-tested rhythms to develop your own arrangements – each features five variations per ensemble section for countless rhythmic possibilities. You also get 65 single instruments with 32 playable rhythms and 12 playable sets of single hits.
Whether your tracks need simple accompaniment or a full-blown percussive assault, your rhythms always fall perfectly into place.
ABOUT DYNAMEDION
Founded by Pierre Langer and Tilman Sillescu, Dynamedion has established itself as a leader in soundtrack composition, orchestra production and sound design on the European computer game market. Their work on Ryse: Son of Rome, Rush, KINECT Star Wars, and Crysis 2 have set the standard for large-scale projects in the industry and won a reputation for unsurpassed quality.
Also highly renowned for scoring movie trailers – including The Last King of Scotland, The Bourne Ultimatum and The Hobbit: The Desolation of Smaug – Dynamedion have received numerous prizes and music awards in the past decade.
AT A GLANCE: ACTION STRIKES
Product type: Sampled orchestral percussion phrase player
For use with: Free KONTAKT 5 PLAYER (included in free KOMPLETE PLAYERS), or KONTAKT 5
Number of instruments: Ensemble NKI: 12 Ensembles
Instruments NKI: 65 instruments
Hits NKI: 12 Hit sets
Sound category: Cinematic percussion
Size: 3.2 GB
System requirements: FREE KONTAKT 5 PLAYER or KONTAKT 5
Please also see the KONTAKT 5 PLAYER system requirements and the KONTAKT 5 PLAYER FAQ
Mac: Intelmac only, no PPC support
PC: needs SSE2 (CPU supplementary instruction set)
Please note: The Ensemble NKI requires considerable CPU power.
Due to file size, the download version for Mac can only be downloaded to the internal Mac hard drive or other 'Mac OS extended' formatted discs (No FAT32!)"