ABSYNTH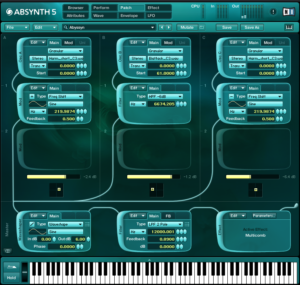 "POWERFUL HYBRID SYNTHESIS
ABSYNTH 5 is a synthesizer with exceptional sonic potential. Its specialty is unusual, evolving sounds created using a powerful, hybrid synthesis architecture and sophisticated modulation and effects. Dig in to more than 2,100 presets or start building your very own sound worlds.
ABSYNTH 5 is also a powerful effect plug-in for treating audio using its unique effects bank.
THE ARCHITECTURE OF SOUND
ABSYNTH 5's semi-modular architecture features three oscillator channels and combines subtractive synthesis, FM synthesis, wave table synthesis, granular sampling, sampling with wave-morphing, filters, modulators, and effects. A unique envelope control lets you subtly or radically animate sounds. Use it all to create anything from softly undulating pads to aggressive, rhythmic synth attacks.
ONE-CLICK SOUND DESIGN
ABSYNTH makes creative sound design easy. Apply new and unusual effects. Explore uncharted sonic realms with filters such as the Aetherizer, Cloud Filter, and Supercomb. And the Sound Mutator lets you create completely new sounds by combining the characteristics of different audio signals without ever delving into the synthesizer's architecture."